Bid Writing Company Of The Year 2020! We've Been Nominated!
Your Tender Team Nominated For Bid Writing Company Of The Year!
Big news this week as it has been confirmed that Your Tender Team has been confirmed as a nominee for 'Bid Writing Company Of The Year 2020'!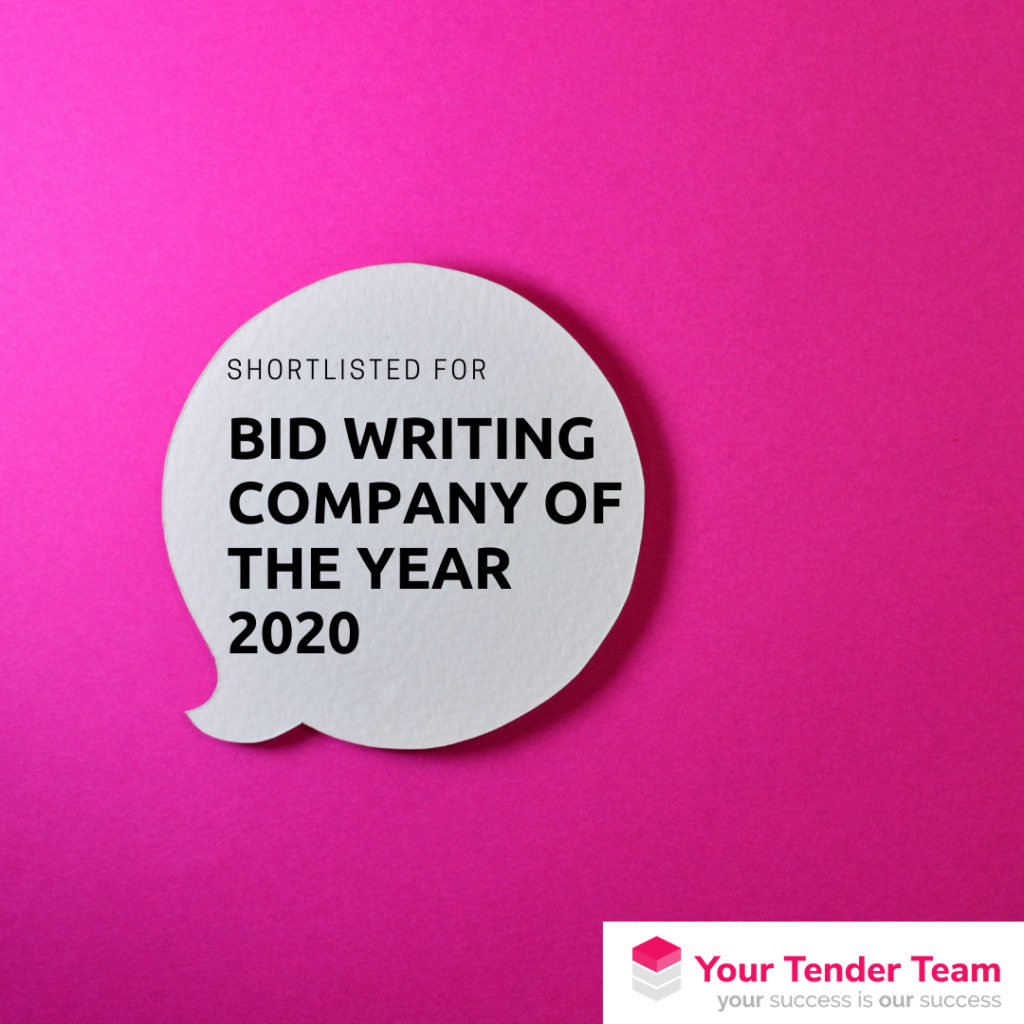 We are proud to announce that we've been shortlisted for the prestigious award ran by a UK based media outlet. The process involves putting forward your case as to why Your Tender Team should win it which is then reviewed by a judging panel.
Award Date And Next Steps
All nominations are now with the judging panel who will be reviewing them over the next few weeks. There are other categories involved in the awards and winners will hopefully in announced in October/November.
Why We Should Win!
Just a brief summary on why we should win Bid Writing Company Of The Year 2020:
Win Rate – What defines our business. We transform your approach to tendering and have a market leading win rate. For more information on our success rate, click HERE.
Recent Successes – Within the last 3-years, we've won over £500m+ worth of tenders in the East Midlands alone! We've had plenty of press coverage because of this, see one HERE.
Transformation For Clients – When winning a tender for a client, we help to create jobs and economic growth within their area. Success with a tender can help achieve ambitious growth goals for clients.
Our Bid Writing Services
We offer bid writing services for clients across all sectors and have a dedicated team who will look after any tender for you. Our two main bid writing services are:
FULL TENDER WRITE – We will manage, plan, write and submit your tender for you. More information can be found HERE.
REVIEW & EVALUATION – If you wish to write the tender yourself, we can offer a structure for you then offer feedback and guidance on your work. More information can be found HERE.
Award Outcome
We'll update our website on our nomination and keep everyone up to speed in due course! Fingers crossed!
In The Meantime, Contact Us To Discover How We Can Help Transform Your Bid Writing
We'd love to discuss how we can help your bespoke bid writing needs. CONTACT US or alternatively if there is a live tender that you wish to respond to, use our GET A QUOTE function on the right of your screen now.