When It Comes To Policy Writing, Look No Further
Policies can become out of date a few days after you've written them. If legislation changes, you need to change your policy. Have you got the time and resources to keep up? With most businesses having a range of different policies, the answer is likely to be no. Don't worry, if you are in the health and social care sector, we can assist.
Claim Your Free Social Value Policy
If your business is in the healthcare sector you can download a FREE SOCIAL VALUE policy from QCS on this page to sample the quality of their policies. Simply scroll down and fill in the form at the bottom of this page.
We Have Your Policy Writing Solution
We have partnered with QCS (Quality Compliance Systems), the market leader in providing policies, procedures and toolkits to the healthcare sector.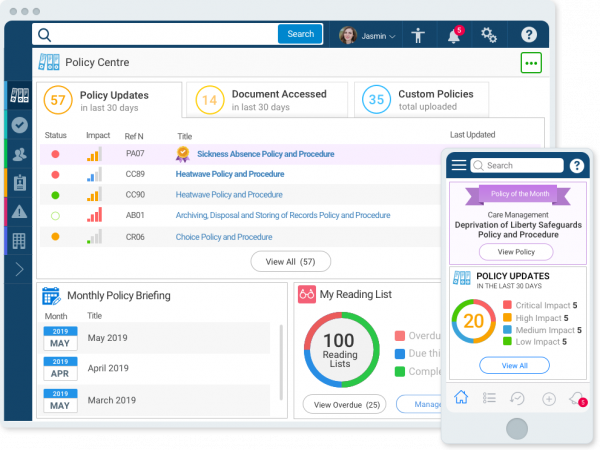 By speaking to us, we can get you on the road to having a range of compliant policies. Join over 80,000 users already using this system. Just complete the form below and see how they can benefit your business.
When Legislation Changes, So Do Your Policies
You'll be notified every time there has been a legislation change and a new updated policy will be ready to download from your portal. Policies can be branded using your logo, allowing registered managers to focus on running the business and meeting your service users' needs.
Who & How Can We Assist?
Please get in touch using the form below if you are in the healthcare sector and wish to learn more about how QCS can assist. See below some areas covered in their management system;
Care Sector
Full Care Management System
Risk Assessments
Mock Inspection Toolkits
Infection Control
CQC Registration
Care Plan Templates
Human Resources
And More
Dentists
Dental Management System
Quality Assurance
Clinical Governance
CQC Registration
Safeguarding
Medication Management
Care And Treatment
And More
Why Use QCS?
Over 80,000 users cannot be wrong
Your own portal where all policies, procedures and toolkits can be accessed by you
Choose to pay monthly or annually
Policies & Toolkits created by the UK's leading knowledge experts, combined with up to 8,500 personalised pieces of information about your organisation
Save Time – How long would it take you to create and update 2300+ pages of guidance?
Policies Required For Tendering
Policies can make or break your submission or could jeopardise your win if the commissioner requests these before making their final decision. Therefore, the importance of your policies for your business should not be overlooked. We offer you a straightforward, compliant route to having every policy you require.
Claiming Your Free Social Value Policy – What To Do Next
Please complete the form below if you would like to download your free Social Value policy and receive further information on how QCS can assist you with your policies. Upon completing the below form your download will begin in a separate window.
Check Out Our Bid Writing And Bid Review Services
Check out our tender writing services for clients. See our FULL TENDER WRITE service for further details on how we can transform your approach to bid writing. We've also gained a fair bit of press recently because of our WIN RATE. Check out our Business Live feature HERE.